About Amy


"Take care of you so you
can be your most brilliant
version of yourself."


I AM A COACH

Because I'm passionate
about changing your INNER
GAME so you can CREATE an
INCREDIBLE LIFE.
I COACH

To create new POSSIBILITIES and OUTSTANDING RESULTS through NEW PRACTICES and POWERFUL ACTIONS even in the FACE OF NOT KNOWING.
I AM COACHED

So I can grow and expand TO REACH MY FULLEST POTENTIAL and make my exceptional CONTRIBUTION IN THE WORLD.
I started out as a Registered Nurse caring for critically ill children and families. Through this experience, I learned the power of clear, honest and compassionate communication to ease stress, restore wellbeing and create environments where people feel listened to and cared for.
One conversation with someone who deeply listens can change everything. Authentic conversation between people taps into creative energy, shifts perspective and clears the path for new possibilities.
When coaching, I'm highly attuned, listening for your care, able to identify missing conversations and blind spots. I see your potential for new opportunities and collaborations.
Relevance

What are the side effects of over-committing? Living in overwhelm?
I've lived in overwhelm, perpetually and habitually taking on more projects, roles and responsibilities. The cost to sustaining this way of being is high for individuals and for organizations. Overwhelm causes us to act differently, to isolate, put our head down and work harder to figure it out. We miss out on things we care about and that matter deeply to us. We sacrifice our own well being for the sake of getting things done. It's not what we signed up for. And there's a different way. We can learn how to make and keep commitments to others and take care of what matters most. And I can help you do this.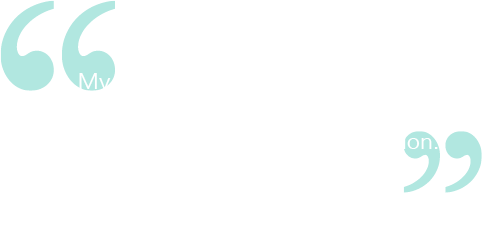 I listen to what you are not saying and to what you are.
I partner with you to cultivate learning moments.
I guide you as you stretch into reaching your full potential and take on new challenges in your life and work.
I champion your desire to become the best version of yourself.
When we work together, you will notice that I bring a calm presence, offer clear and strategic thinking questions and I'm highly tuned-in to listening for barriers that are interfering and blocking your path. I pay attention to your emotions, moods, body and story. Observing and questioning, I challenge your assumptions to see what else is possible for you.

I'm your confidential sounding board and thinking partner as you challenge old paradigms. My questions will provoke new thinking and generate effective strategies to move you forward. I will be beside you as you take a stand for what you care about.

In my own life I have had to dig deep to find my own voice and to learn how to trust it. I turned to coaching to help me navigate significant changes in important relationships and career pivots I was facing. The impact was profound, it challenged my story and heightened my resolve to show up all in, designing and leading a fulfilling life.

This is why I'm a coach and why I want to be your coach. Generating new results comes from seeing new possibilities, creating commitment to take action for what matters to you, and creating the plan to get you there.
---
I invite YOU to discover what's possible for you, for your
team, for your organization.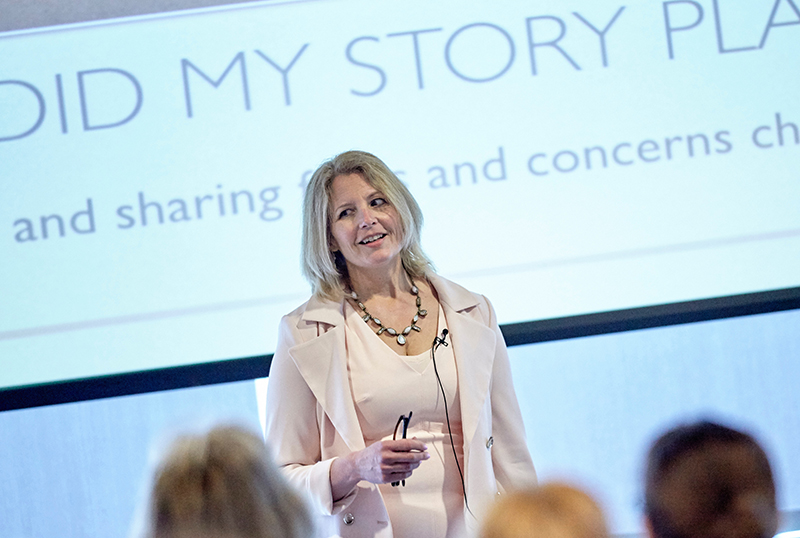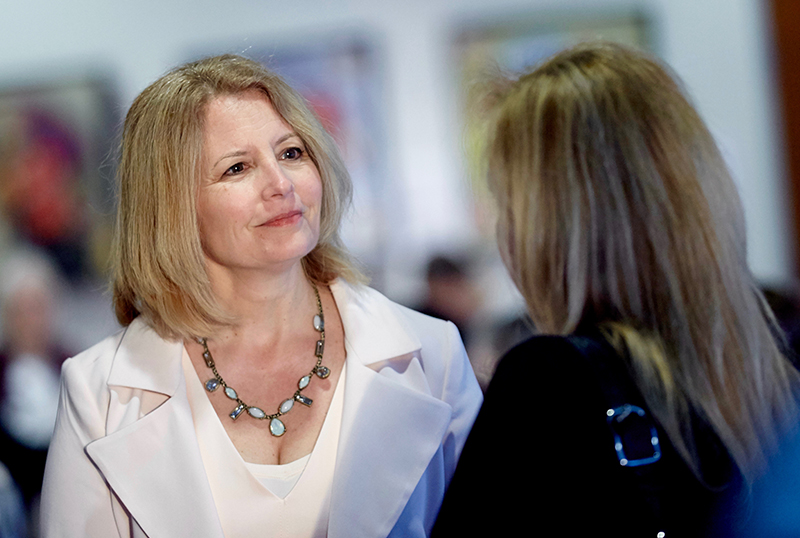 Amy has led workshops for me at Company of Women. She has a gentle way with people and seems to intuitively know what to say, how to help individuals better understand themselves and she provides you with the tools to move forward in addressing what holds you back. She is a true professional and cares deeply about her work and her clients.
Anne Day

I work with individuals, teams and groups and have over 26 years of experience working in diverse roles with people from many different backgrounds.
In my training as a coach, I've studied with world class leaders in the fields of ontological coaching, somatics and generative leadership. I hold certifications from Newfield Network, The Institute for Generative Leadership, ICF, and in Somatic coaching.
I hold a Bachelor of Science and a Master of Science in Nursing from McMaster University.
I'm the mom of 4 grown and growing children who inspire me everyday and keep my feet firmly on the ground.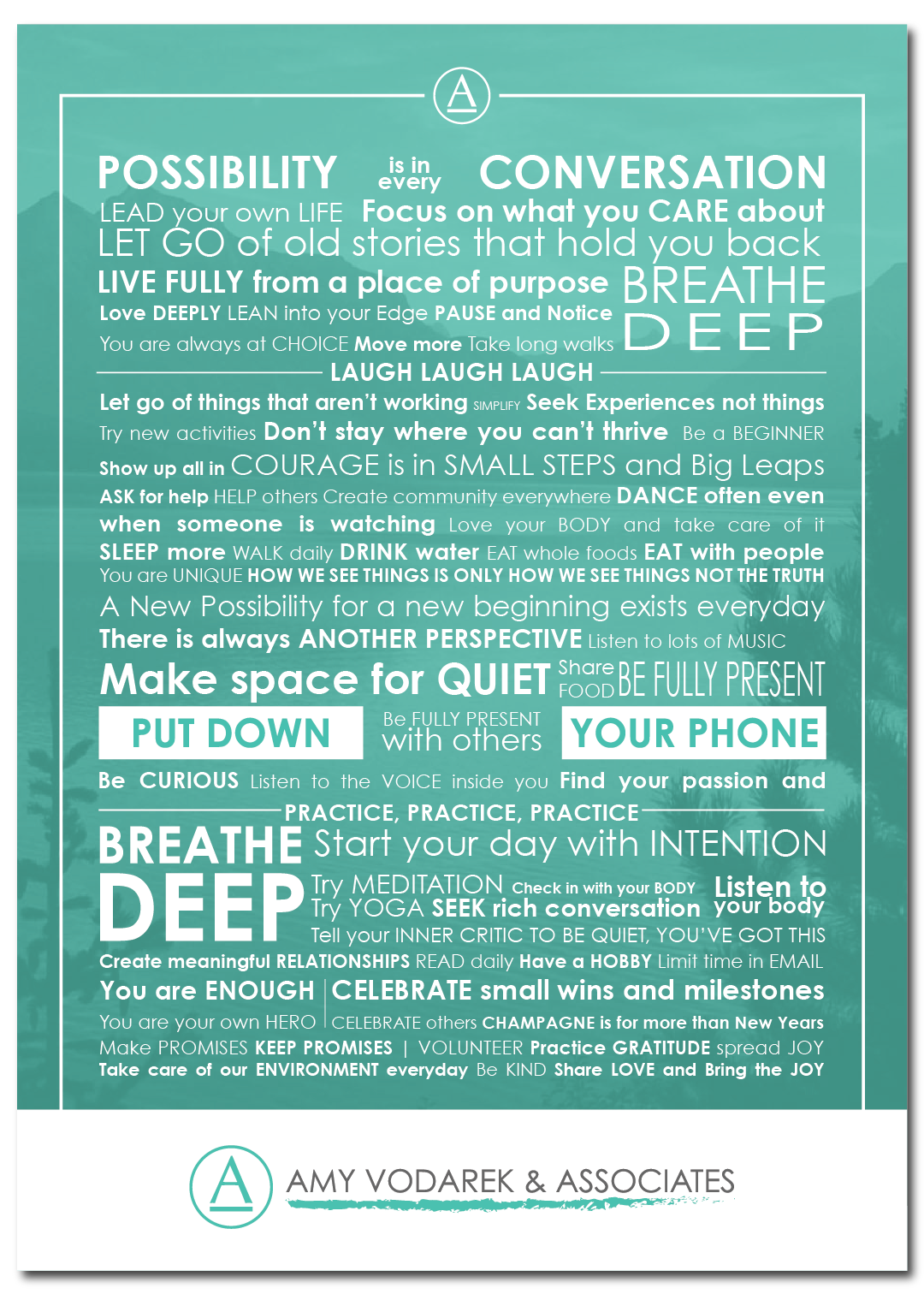 These are words I live by
If these words resonate with you, then please download and share with others.
Download Now
GET YOUR FREE GUIDE
'Focus, Thrive & Shift Out of Overwhelm'
BONUS: You'll also get our monthly newsletter 'You've Got This!'